A most essential question
What convergence is there between the journey of the ascetic Tibetan yogi Milarepa and that of the little-known great French mystic of the Seventeenth Century, Madame Guyon ? between Ramana Maharshi and the famous sufi Al-Hallaj ? What is the common denominator between these extraordinary beings who, in such apparently dissimilar ways, climbed the rungs leading to the ultimate realization ? Is it not a question of the greatest importance, to conjecture about what is essential and what is of incidental value, about what is truly the core of a practice and what relates to a cultural context and epoch ?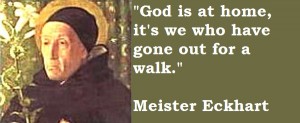 There exists only the present instant… a Now which always and without end is itself new. There is no yesterday nor any tomorrow, but only Now, as it was a thousand years ago and as it will be a thousand years hence.
" The beginning, in which God created heaven and earth, is the primary simple now of eternity … exactly the same 'now', where Himself exists eternally, where also the progress of the divine persons [of the Trinity] eternally was, is, and will be.
" God could not have created the world earlier, because earlier than world and time there was no 'earlier'."
" Dedication to prayer, to fast, to vigils and to all sorts of external exercises and mortifications, dedication to whatever work, denies you the freedom to serve God inside this present now and to follow Him, Him alone, in the light in which He guides you what to do and what to leave – in each now free and new, as if you had not, nor wanted, nor could do anything else."
https://blog.meditation-presence.com/wp-content/uploads/2017/09/bandeauaccueil.jpg
0
0
vidji
https://blog.meditation-presence.com/wp-content/uploads/2017/09/bandeauaccueil.jpg
vidji
2020-09-01 09:35:21
2020-09-01 09:35:22
Meister Eckhart : There is no yesterday nor any tomorrow