A most essential question
What convergence is there between the journey of the ascetic Tibetan yogi Milarepa and that of the little-known great French mystic of the Seventeenth Century, Madame Guyon ? between Ramana Maharshi and the famous sufi Al-Hallaj ? What is the common denominator between these extraordinary beings who, in such apparently dissimilar ways, climbed the rungs leading to the ultimate realization ? Is it not a question of the greatest importance, to conjecture about what is essential and what is of incidental value, about what is truly the core of a practice and what relates to a cultural context and epoch ?
Our only prayer is to be firm in our determination to give ourselves completely to the Buddha'sWay, so that no doubts arise however long the road seems to be.
To be light and easy in the four parts of our body, to be strong and undismayed in body and in mind.
To drive out both depressed feelings and distractions.
To be free from calamity, misfortune, harmful influences and obstructions.
Not to seek the Truth outside of ourselves, so we may instantly enter the right way.
To be unattached to all thoughts, that we may reach the perfectly clear bright mind of prajna wisdom and have immediate enlightenment on the great matter of birth and death.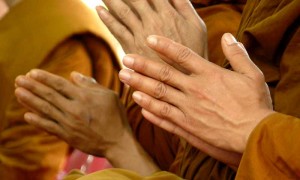 Thereby we receive the transmission of the deep wisdom of the Buddhas to save all sentient beings who suffer in the round of birth and death.
Our further prayer is not to be extremely ill or to suffer at the time of departure.
To know its coming seven days ahead so that we may quiet the mind to abandon the body and be unattached to all things at the last moment, wherein we return to the Original Mind in the realm of no birth and no death, and merge infinitely into the whole universe to manifest as all things in their true nature and, with the great wisdom of the Buddhas, to awaken all beings to the Buddha Mind.
We offer this to all Buddhas and bodhisattva-mahasattvas of the past, present and future, in the ten quarters and to the Maha Prajnaparamita.
https://blog.meditation-presence.com/wp-content/uploads/2017/09/bandeauaccueil.jpg
0
0
vidji
https://blog.meditation-presence.com/wp-content/uploads/2017/09/bandeauaccueil.jpg
vidji
2020-05-06 16:45:39
2020-05-06 16:45:40
A Buddhist Prayer