A total absence of worldly pride and arrogance, harmlessness, a candid soul, a tolerant, long-suffering and benignant heart, purity of mind and body, tranquil firmness and steadfastness, self-control and a masterful government of the lower nature and the heart's worship given to the Teacher.
A firm removal of the natural being's attraction to the objects of the senses, a radical freedom from egoism. absence of clinging to the attachment and absorption of family and home, a keen perception of the defective nature of the ordinary life of physical man with its aimless and painful subjection to birth and death and disease and age, a constant equalness to all pleasant or unpleasant happenings.
A meditative mind turned towards solitude and away from the vain noise of crowds and the assemblies of men, a philosophic perception of the true sense and large principles of existence, a tranquil continuity of inner spiritual knowledge and light, the Yoga of an unswerving devotion, love of God, the heart's deep and constant adoration of the universal and eternal Presence; that is declared to be the knowledge; all against it is ignorance.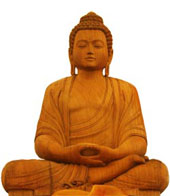 The essential condition for the attainment of this supreme goal is the complete absence of the ego-sense. Self-control and self-discipline are the means. Yoga also signifies union with and absorption in the immortal Reality. A steady, persevering, and concentrated effort and struggle alone can lead the aspirant to the realization of the Godhead. So long as man is hankering after the pleasures of the senses, his progress on the path is slow and erratic. He must be undaunted in his endeavor and determined in his purpose. He must leave no stone unturned to subdue and eventually eradicate the impure passions of his heart and mind. A purified and enlightened bud-dhi can alone entitle the sadhaha to enter the kingdom of eternity.
Yoga is not a thing to be merely talked about, read in books, and heard through others. Yoga is for practice in life.
Swami Ramdas – Presence of Ram
https://blog.meditation-presence.com/wp-content/uploads/2017/09/bandeauaccueil.jpg
0
0
vidji
https://blog.meditation-presence.com/wp-content/uploads/2017/09/bandeauaccueil.jpg
vidji
2023-01-10 14:43:43
2023-01-10 14:44:35
Baghavad-Gita : What is knowledge, what is ignorance