The thing is we say we want to be enlightened, but we don't really. Only bits of us want to be enlightened. The ego which thinks how nice, comfortable and pleasant it would be. But to really drop everything and go for it! We could do it in a moment but we don't do it.
And the reason is we are too lazy. We are stopped by fear and lethargy – the great inertia of the mind. The practice is there. Anyone on the Buddhist path certainly knows these things.
So how is it we're not enlightened? We have no one to blame but ourselves. This is why we stay in Samsara because we always find excuses. Instead we should wake ourselves up. The whole Buddhist path is about waking up. Yet the desire to keep sleeping is so strong. However much we say we will awake in order to help all sentient beings we don't really want to. We like dreaming.
TENZIN PALMO A cave in the snow p. 172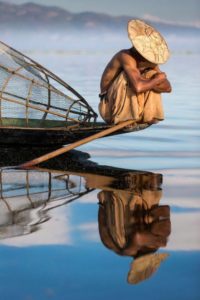 "If, by using certain exercises, the aspirant manages really to see what his eyes are looking at and really to hear what his ears are listening to, he will observe that a strange and silent inner presence, as well as consciousness of himself which is most unusual for him, will begin to manifest itself within him.
However, he will discover that he cannot, or rather, he does not want to maintain this state of consciousness which was hitherto unknown to him, because to maintain this consciousness of himself involves awakening; yet, paradoxically, despite everything he may think, he does not wish to awaken ! To awaken and, above all, to remain awake require a special and persistent effort at the beginning which one does not like to make. One prefers to sleep peacefully in oneself and daydream – which does not entail any price to pay – rather than going to the effort required for this essential awakening. Yet, without this awakening, there can be no possibility of objective and real choice for the human being. He will always be manipulated by the impulses of his mundane self and external forces, without being capable of realizing in what way he is at their mercy."
Edward Salim Michael : Spiritual practice and inner awakening chap 10
https://blog.meditation-presence.com/wp-content/uploads/2017/09/bandeauaccueil.jpg
0
0
vidji
https://blog.meditation-presence.com/wp-content/uploads/2017/09/bandeauaccueil.jpg
vidji
2019-02-07 17:34:19
2019-02-07 17:34:19
Tenzin Palmo : We like dreaming